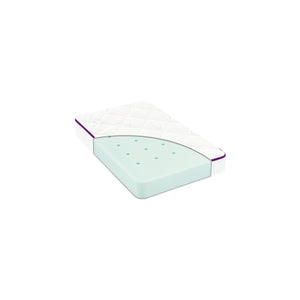 We Are Bitte
Premium Mattress Extension
Regular price
€107,00
€0,00
Unit price
per
Tax included.
DESCRIPTION
This mattress extension is a custom-made mattress from Träumeland who is specialized in baby and children's mattresses. The mattress has rounded corners and is custom-made to fit as an extension part in the Nature Junior Bed.
The mattress is made in Europe and complies with strict European safety standards.

FOAM:
The mattress is made from cold foam which is known for being both breathable and hypoallergenic. The mattress has a high bearing capacity which makes for incredible comfort and support for babies and small children.
The mattress has build-in air canals that transport moisture away from the child and thereby help the child regulate its own body temperature which otherwise is difficult for small children and babies.

COVER:
The mattress has a soft quiltet cover in TENCEL™/polyester which makes it both durable and easy to wash if needed. The cover has extra breathable venting material along the sides.
The cover has a long zipper which makes it easy to remove the cover for washing. Since the cover is removable and washable, the mattress is well fitted for allergic persons.
The zipper even goes all the way around so if needed, you can remove just one side of the cover for washing and leave the other side on the mattress.
The zipper is child proof and can only be opened by an adult using a paper clip.

DIMENSIONS
40 x 68 x 9 cm

QUALITY
Cover: 38 % TENCEL™, 62 % polyester.
Core: Cold foam with density of 30 kg/m3.

WASH AND CARE INSTRUCTIONS
Wash:
The cover is washable at 60 °C. Tumble dry low heat. Do not iron. Do not bleach.
Care instructions:
We recommend that you protect the mattress by using a bed wetting sheet. Furthermore, the mattress should be rotated a few times yearly to ensure that head and foot ends switch places. The mattress should be vaccuumed regularly.
Make sure you have good ventilation.
For hygienic and fysiologic resons, you should not pass on a mattress from one child to another.

WARNING
Never place the cot close to an open fire or other sources of strong heat, such as electric bar fires, gas fires, etc. due to the risk of fire.
Do not use the product if any part is broken, torn, or missing and use only spare parts approved by We Are Bitte.
Never place more than one mattress in the cot.
Never place the mattress in a cot larger than 68 x 120 cm (internal dimensions).
Make sure that the cot has rounded corners like the Nature Baby Bed from We Are Bitte.
---